Psychasthenia 15 Abyss Edition
Archictectural installation with film Abyss (2010). Dimensions variable, from 8m x 4m to 10m x 20m and larger. Mulitiple heights, structure adjusted to exhibition spaces. Chain-link fencing, cement bench, HD projector, HD playback unit, surround system. 2010-2012

Abyss (2010): 43min, 35mm film mastered to HD. Colour, 5.1 surround audio, 16:9 aspect ratio.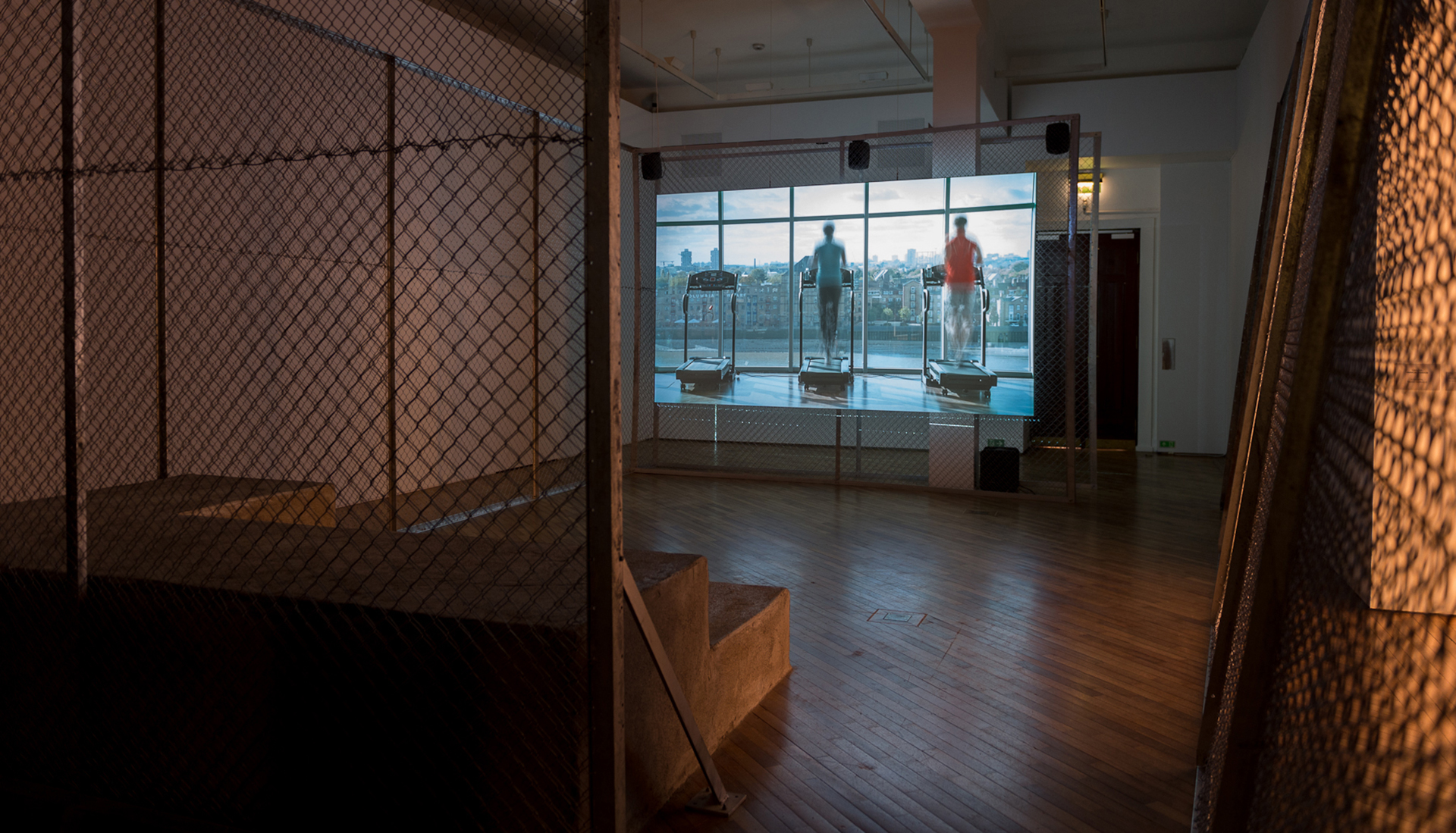 Psychasthenia 15, (2010-2011), is built from tall chain link fencing in single, double and triple layers. With single and double sets of metal frames. The fence creates spaces and subspaces and accessible and inaccessible spaces for the viewers body. On a suspended back-projection screen a film is visible from front and back, unobstructed or seen through layers of fencing.

Psychasthenia 15 is built around optical axes and the movement of the body. It is an optical machine for viewing films, the space and other viewers. It is a visual spectacle through projection axes and moiré effects, but it is also a physical space, one in which you are defined in relation to other sides (of the fence) and to other spaces and the site of your body. It is simultaneously a space for the flight of the eye and the placement of the body defined as vulnerable and subject to control. However, moving through the spaces and engaged with the temporality of the gaze within the space, within the films and in their own use of the space, the viewer creates her/his own compositions of enjoyment, restriction and thematic content. The films contextualize the installations and ground them in the world outside the gallery room. Naturally the films become the main focus for most of the viewers and activate it through the projection of light through the back-projection screen and the fence layers.

Abyss portrays an urban reality characterised by migration and change – the movement of people, the movement of money and power, and the drift of the imagination. Filmed in East London, including the 2012 Olympic construction site the film is set within spaces of the modern city – markets, gyms, parking lots, parks, squares, streets and stores. The main character, O, negotiates her material world but the city's economical, political and social demands appear to have been absorbed into her movements, speech and psychology. The film drifts between a material world and its psychological effects.

Pictured here is the edition of the collection of the National Museum in Oslo, at approx 9m x 6m x 3,5m (h)