Psychastenia 15 Tripoli Edition
Architectural installation with film Tripoli (2010). Dimensions variable, structure adjusted to exhibition spaces. Chain-link fencing, cement bench, HD projector, HD playback unit, surround system.

Tripoli (2010): 24 min, RED to HD, 1:1.77, colour, stereo.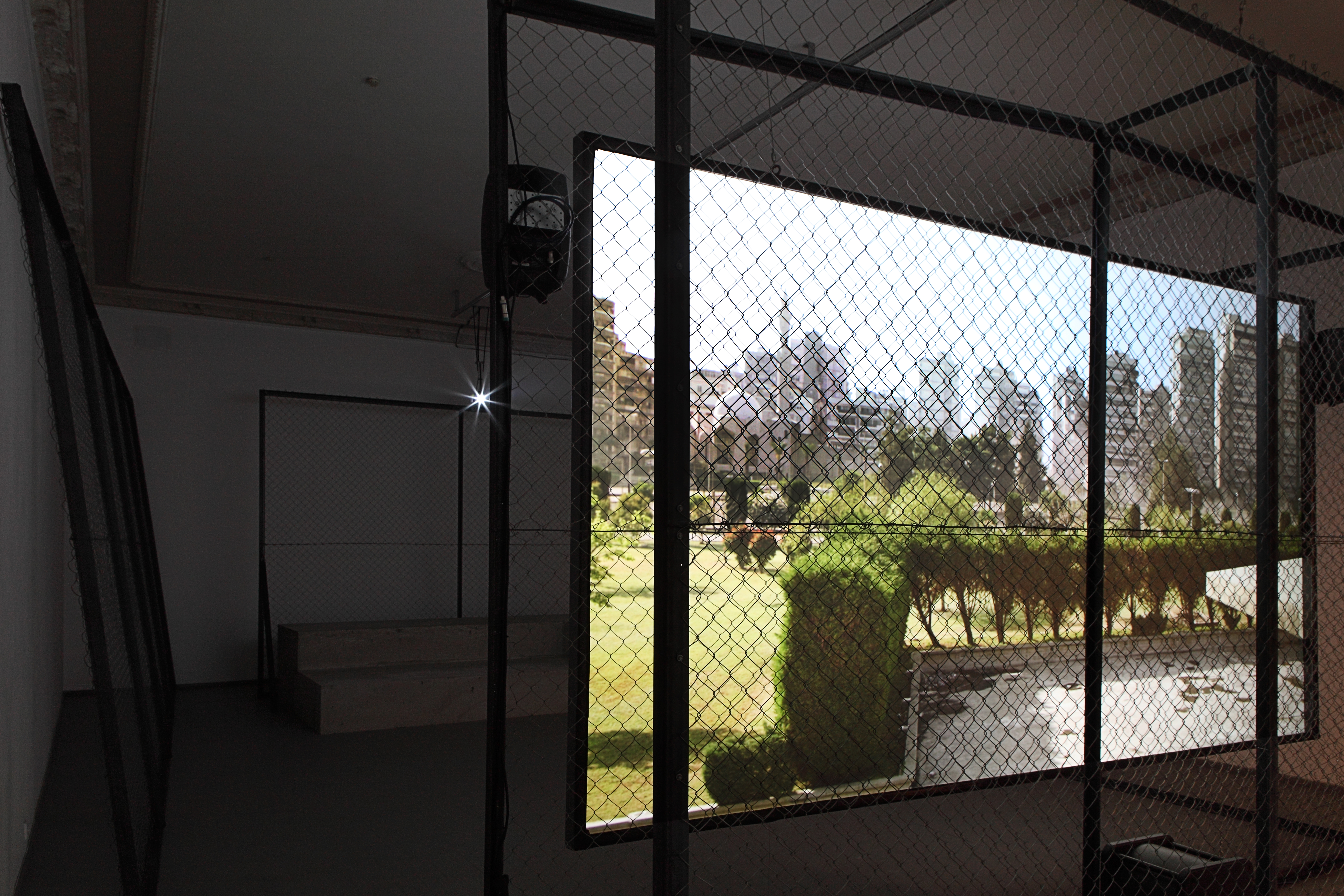 Psychasthenia 15 is built from tall chain link fencing in single, double and triple layers with single and double sets of metal frames. The fence creates spaces and subspaces and accessible and inaccessible spaces for the viewer's body. On a suspended back- projection screen a film is visible from front and back, unobstructed or seen through layers of fencing.

Psychasthenia 15 is built around optical axes and the movement of the body. It is an optical machine for viewing films, the space and other viewers. It is a visual spectacle through projection axes and moiré effects, but it is also a physical space, one in which you are defined in relation to other sides (of the fence) and to other spaces and the site of your body. It is simultaneously a space for the flight of the eye and the placement of the body defined as vulnerable and subject to control. However, moving through the spaces and engaged with the temporality of the gaze within the space, within the films and in their own use of the space, the viewer creates her/his own compositions of enjoyment, restriction and thematic content. The films contextualize the installations and ground them in the world outside the gallery room. Naturally the films become the main focus for most of the viewers and activate it through the projection of light through the back-projection screen and the fence layers.

Tripoli (2010) emphasises on the one hand political history and architectural traces through the preserved relics of our recent past, and on the other hand the psychological and traumatic dimension of a place reflecting political history.

In the city of Tripoli in Northern Lebanon one finds the remains of one of the world's most distinctive and ambitious construction projects, a stranded vision in the form of an international fairground and conference centre designed by the Brazilian architect Oscar Niemeyer in 1966. The project started in an optimistic period when Lebanon was a success story of the Middle East. However, a few years later, in 1975, the civil war broke out and all the work on the extensive project ceased. The complex was never completed, and was instead used for ammunition storage, a landing place for helicopters and other military uses, or simply closed to the public for long periods. It is now extremely unlikely that it will ever be completed, because of the huge costs involved in restoring the degrading structures.

Pictured here are the editions from Bergen Kunsthall, Norway (2010), Incheon Womens Art Biennial, South Korea (2011) and Galerija Vartai, Lithuania (2012).