Oblique Talks #6. 19.12.2022 at 18:00
Oblique Talks, #6. Mira Adoumier,
ON THE NIGHT
Mandag 19.12.2022, Kl 18, vennligst kom presis.
Please RSVP max 20 people
Møllergata 34, ringeklokke C4, 0179 Oslo.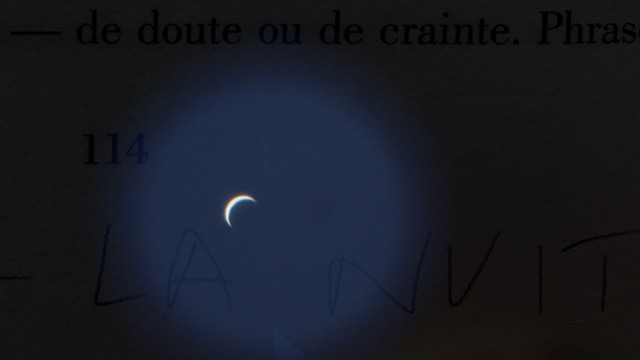 Mira Adoumier
ON THE NIGHT

Drawing from the concept of night studies, I would like to discuss and explore the night, not as temporal but rather a geographical landscape, specifically a landscape at the periphery, a negative space of the day. The night as a place has slowly disappeared in society, with the spread of streetlights, with the desire to colonize that space, with the day spilling over the night. It is interesting to look at Jonathan Crary's work, with late capitalism's growing colonization of sleep, and sleep as a standing affront to capitalism, its last rampart to a round-the-clock consumption and production fantasy. The night is a place of counter- and subcultures, offering safe spaces, and emancipatory space where different voices can be heard, voices that would have been reduced to silence. However, it can also create spaces of violence. The festivities and the parties that take place at night carry a revolutionary potential. My point of interest, and case study, will be Beirut at night, which is the background and the center character of my film project in development. The Night Came About is a film that has been fed by these night excursions through Beirut over the years, observing the shift that operated at night and people I would only encounter then and there. Beirut being a small city, overcrowded, cramped, compartmentalized and where one cannot escape the constriction of conventions, and where anonymity is impossible. The night there offers a space of emancipation and a place where people of different social pockets can meet.

Mira Adoumier (1985, New York) is a Lebanese and French filmmaker, artist, researcher and member of the collective The Camelia Committee, recently based in Oslo. Her first feature film, Errans, premiered at CPH:DOX 2020. Her work depicts and questions landscapes at the junction between center and periphery, between fiction and reality.

Oblique Talks er en serie med kollegiale samtaler som holdes en gang i måneden på en mandag kveld. Det kan ha form av et seminar, en forelesning, en uformell samtale eller noe mer performativt. I hvert tilfelle er fokuset på et aspekt eller et tema som kunstneren/filmskaperen finner interessant i forhold til det bevegelige bildet. Dette er ikke kunstnerpresentasjoner.

PÅMELDING:
På grunn av små lokaler, er det begrenset antall deltagere opp til 20 deltagere. Svar på denne mailen for å melde deg på til dette eventet. Når vi har nådd 20 påmeldte stenges påmeldingen.

Oblique Talks er støttet av Norsk Kulturfond og Fritt Ord.