Oblique Talks #2. 11.10.2021 at 18:00
Oblique Talks, #2. Mike Sperlinger
Termite viewing, or, film in pieces
Mandag 11.10.2021, Kl 18
Møllergata 34, ringeklokke C4, 0179 Oslo.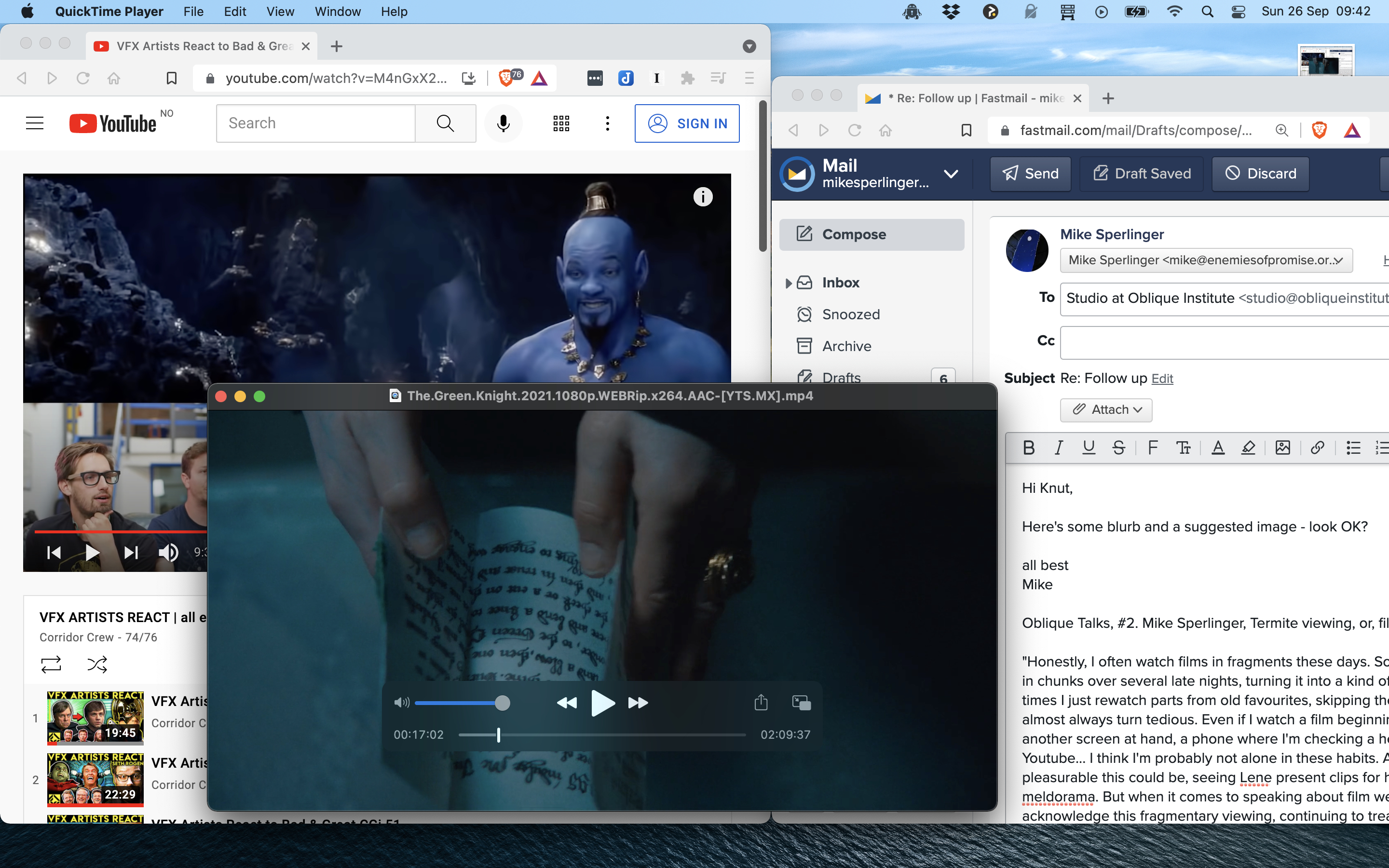 Mike Sperlinger
Termite viewing, or, film in pieces

"Honestly, I often watch films in fragments these days. Sometimes I watch a film in chunks over several late nights, turning it into a kind of episodic TV. Other times I just rewatch parts from old favourites, skipping the third act where things almost always turn tedious. Even if I watch a film beginning to end, there's often another screen at hand, a phone where I'm checking a headline - or even Youtube... I think I'm probably not alone in these habits. And I was reminded how pleasurable this could be, seeing Lene present clips for her talk about melodrama. But when it comes to speaking about film we rarely seem to acknowledge this fragmentary viewing, continuing to treat films as organic wholes which we supposedly watch all the way through to the end credits, with our full attention. What would it mean, for criticism or for filmmaking itself, to own up to the termite-like nature of our private viewing?"

Oblique Talks er en serie med kollegiale samtaler som holdes en gang i måneden på en mandag kveld. Det kan ha form av et seminar, en forelesning, en mer uformell samtale eller noe mer performativt. Fokuset er i hvert tilfelle på et aspekt eller en tematikk som event-holderen synes er interessant. Dette er ikke kunstnerpresentasjoner.

PÅMELDING:
På grunn av små lokaler, er det begrenset antall deltagere opp til 20 deltagere. Svar på denne mailen for å melde deg på til dette eventet. Når vi har nådd 20 påmeldte stenges påmeldingen.

Oblique Talks er støttet av Norsk Kulturfond og Fritt Ord.